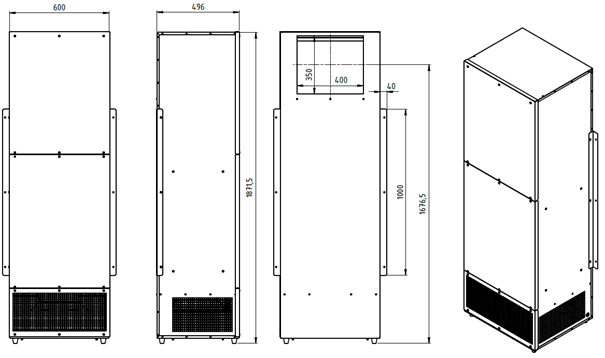 FreeCooling with low noise
CityMaster is the most quiet FreeCooling unit without an external silencer in AirSites' product range. It offers Free Cooling capacity of up to 5 kW heat load** and a sound pressure level of 30 dB(A)***. Ideal for operators who require an exceptionally low noise level outside their equipment rooms.
Contents
Sound insulation including extra sound-absorbing baffles
EC fan with external rotor motor
1 filter ePM10 70% (M6) 490x592x360
1 outdoor sensor
Electrical data, fan unit
Voltage 48 V DC
Rated power 343 W
Rated current 7,3 A
Speed 1287 rpm
Sound pressure level 31 dBA (10 m)
Fan unit, airflow, dimensions, and weight.
756 l/s at external pressure of 50 Pa and clean filters
Approved ambient temperature -25°C…+60°C
Weight 78 kg
Cooling capacity at Δt 2K* = 5-6 kW
Classifications according to IEC
Fan motor: IP42
Temperature sensor: Protection Class II
Connectors: IP20
DeltaManager: IP54
* Variations may occur depending on the site.
** Delta-T 5K heat load 5 kW
*** Sound pressure level 30 dB(A) at a distance of 10 meters from the source.