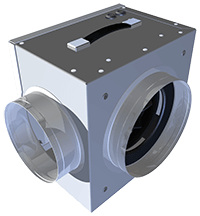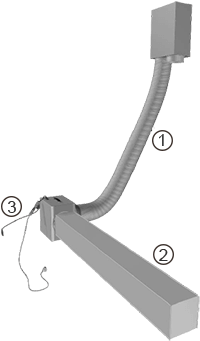 Portable FreeCooling fan for temporary cooling needs.
The fan is controlled by a temperature regulator that adjusts the fan speed from 10°C = 10% to 45°C = 100%.
Contents
Fläkthölje i magnelis (C5), i olackat eller lackat utförande
EC-fläkt med ytterrotormotor
1 st Tempgivarregulator
1 st Matningskabel 230V
Electrical data, fan unit
Voltage 230 V AC
Rated power 170 W
Rated current 1,45 A
Speed 2900 rpm
Sound pressure level 73,9 dBA (10 m)
Fan unit, airflow, dimensions, and weight.
210 l/s at external pressure of 50 Pa and clean filters
Approved ambient temperature -25°C…+60°C
Weight 6 kg
Cooling capacity at Δt 2-5K* = 2 kW
Classifications according to IEC
Fan motor: IP54
Temperature sensor: Protection Class II
Connectors: IP20

* Variations may occur depending on the site.
CarryMaster as an emergency fan
CarryMaster can be used as an emergency fan in situations where you want to quickly replace existing ventilation.
Set up the CarryMaster on a stable surface, connect the following:
a. Plastic hose (1), slide on the reduction nozzle and secure it with the hose clamp.
b. Filter hose (2), slide on the nozzle and secure it with the hose clamp.
Connect the plastic hose to the relevant inlet.
Ensure that the temperature sensor (3) is positioned 1.5m above the floor and not in the airflow from the filter hose.
Connect the CarryMaster to a power outlet.